White and Lavender Flowers
Tropical Plant Images
These plant and flower pictures are for identification purposes and are the property of PlantAndFlowerInfo.com. If you would like to use any images on a website, that is permitted but please include proper credit with a link back to this site. Any personal, non-commercial use is permitted and welcome. Thanks!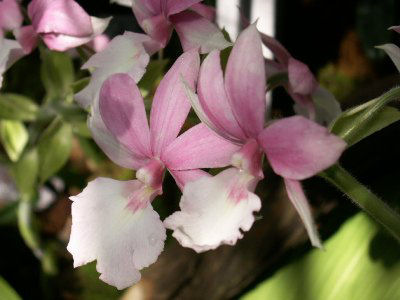 White and Lavender Flowers
Houseplant Images
Image of very pretty flowers of lavender and white. I am not sure if they are Orchids but they do look like them. Any one that knows their identity is welcome to contact me. I know there are a lot of Orchid experts out there. Contact info link is at the bottom of the page. This was shot at the United States Botanic Garden in Washington DC. If you visit Washington DC, the USBG should be on your list of places to see and enjoy. Thanks for visiting this page!
For Orchid plant care information... see more >
Read about indoor foliage and flowering plant care and general houseplant care...
If you are searching for great looking floral and botanical posters, art prints and photography to enhance your interior design and decor, this is a great place to find it at a great price! Thanks for visiting this page!
Thanks for visiting and come back soon as plant care information, pictures and more are being added all of the time. I hope that your tropical indoor plants and all of your plants and flowers are happy, green and growing because that is why I started this site PlantAndFlowerInfo.com.
| | |
| --- | --- |
| | If you have indoor plant questions you can send a plant question or visit the PlantAndFlowerInfo blog for interior plant questions and answers, to post your own comment or questions or share some of your indoor plant wisdom with others. Visit the website Facebook Page or Google+ Page, also great places to post comments and questions! Thanks again... |
Related links:
Watering Indoor Plants Lighting Indoor Plants Best House Plants Plant Pictures PlantAndFlowerInfo blog